Travel to Colombia with us

, help the community,


b

e part of

their lives and share knowledge
Be part of this adventure to observe whales in the Pacific Ocean,

exotic birds in the coffee zone

,
majestic cathedrals in the savannah and be privileged to enter the Arhuaco village, from which we
require a special permit.
See the list of BARTER


A part of the trip can be exchanged for things, knowledge, classes, time, t

ranslations

etc.
From 26 July to 15 August 2018
Spaces are limited. Only 15 people
Deadline for registration: May 22, 2018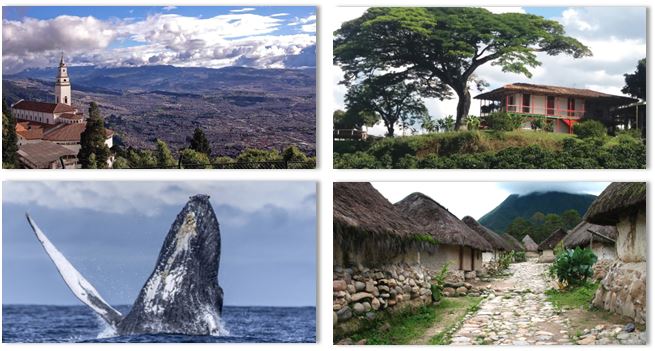 Traveling is the only thing we can buy that makes us richer
Here the travel itinerary
This visit is our act for facilitating peace and sustainable development in Colombia. Do you want to join us?
In Simbiosis Activa we promote active and respectful nature ecotourism, where a harmony between visitors and nature exist. Simbiotourism or Ecotourism and rural tourism goes hand in hand with awareness and sustainability, that's the reason of our allies are people who love nature, enjoy the caring and sharing that space with others who want to visit them, besides offering an unforgettable stay an opportunity to reconnect with the environment.
SOON 3 ROUTES MORE THAT THERE INCLUDE: AMAZONAS, GUAJIRA, SANTANDER, MAGDALENA and ANTIOQUIA
Do we barter to go to Colombia?
Barter is the most primitive form of commerce and is part of a just economy, where there is trade without exchange of money. As we would like to promote this, part of the trip Simbiotourism in Colombia can be paid under this modality.
There is a list of materials and non materials with estimated prices in the current market, that can be exchanged. These are a part of specific projects or purposes of the trip. The maximum amount for barter is 1.000 EUR. You can trade less if you prefer. Exchanging 1,000 EUR you will pay only 5,500 EUR for the trip (6.500 EUR total price). We trust that we can slowly return to a solidarity economy where people offer what others need.
Each amount is estimated per unit / hour in Euros (EUR) and Colombian pesos (COP). The barter will depend on what you want and can offer according to the list.
The materials are divided according to their condition in:
NE (New)
GC (Good Condition)
VGQ (Very Good Quality) and
NO (Normal).
They can be taken or purchased at the destination. Non-material things that are intangible, such as time, professionalism, knowledge, classes, etc., must be VGQ (Very Good Quality) and made PROF (Professional).
If you are interested in bartering to travel to Colombia, please contact us by mail and write the reference number that is on the left side of each item. For some items there are punctual brands such as medication or dog food, because of their diet, dogs are accustomed to a specific brand, which will be detailed in the answer.
List of materials and not materials to barter